The Kaohsiung Liu He Night Market food selection is quite good. Many stalls come and go but some stick around for decades and become quite popular. Here is a list of delights to look for at Kaohsiung's Liuhe Night Market.
1) Little Sausage In Big Sausage (pictured above)
This snack can be found at many night markets around Taiwan. It consists of a barbecued pork sausage (red) sitting on a large white rice sausage. Both are barbecued separately and then an incision is made down the center of the rice sausage and the red sausage is placed inside. It is quite good, yet filling.
2) Liu He Night Market Food:Papaya Milk
This papaya milk stand has been open for more than 50 years. It has been a staple at the Liuhe Night Market. If you haven't tried a creamy papaya milk in Taiwan yet, this is a place to try. There are also many other fruit milk and veggie milk choices. Just point to one of the fresh fruits and vegetables laying on the front of the stand.
3) Barbecued and Deep Fried Seafood
Seafood is big in Kaohsiung City so you'll have plenty of choices to choose from at the Liuhe Night Market. You can get anything from fresh crab, shrimp, oysters, and even lobsters. If you are into squid, which is quite popular in South Taiwan, give the fried or barbecue cuttlefish a try.
Fresh lobster.
Deep fried squid on a stick.
4) Fresh Seafood Dinner
One unique aspect about the Liuhe Night Market food is the seafood restaurants that line the street. Seafood in Kaohsiung is fresh and not too pricey. Customers can pick their food at the front (3-4 dishes), and then sit at a table. As the food is cooked, the dishes will be brought to your table. It is a fun atmosphere to enjoy a seafood dinner.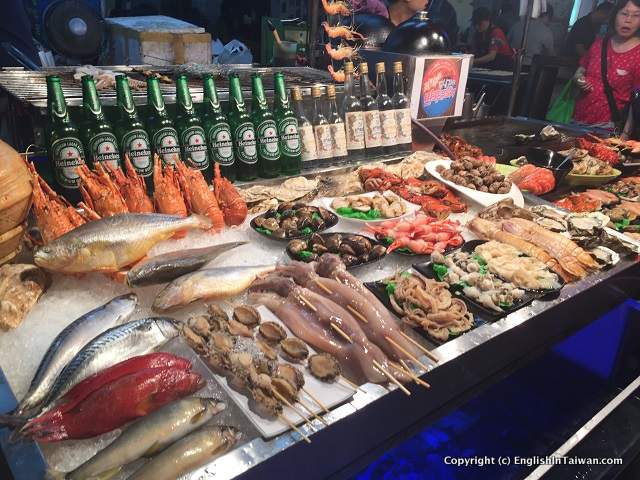 5) Fish Ball and Rice Ball Soup
This stand is also a very popular one at the Liuhe Night Market. It is one of the only stands that probably still gets it fair share of local customers. Fish ball and rice ball soup are very traditional Taiwanese delights. The taste is salty and fishy which is a preferred taste for Taiwanese. Prices are really inexpensive, so it's worth it if you want to try a real local dish. The stand is located at the west end corner of the Liuhe Night Market at the Zili Road interesection.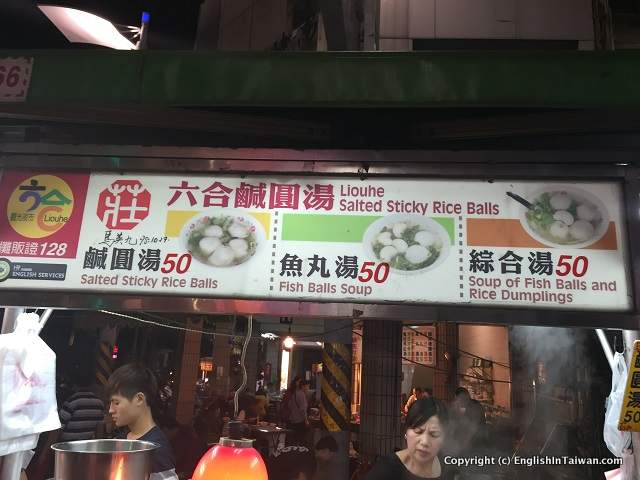 6) Snake Meat
If you like it, then you like it. Stop by the snake restaurant and try some stir fried snake or snake soup. It is located near the east end of the market.
7) Fish Rice Noodle Soup
If you are looking for a true local delicacy, you can try the thick fish soup at this stall. The soup is made up of many different kinds of fish parts and can also be bought as a stir fry. Everything is laid out in front so you can pick what you want.
8) Soy Braised Duck Parts
These kinds of stalls are all around Taiwan. At Liuhe, this stall is quite popular. The parts of the duck, and tofu, are braised and stewed in a thick soy sauce. The taste is salty but good. Be aware that ALL the parts of the duck are used including the tongue, head, and bill. You can point to what parts you want and they will collect and heat them up for you to go.
9) Sugar Cane Juice
Sugar cane is grown throughout Southern Taiwan. In the summer, you can often see people munching on a peeled stalk and sucking out the fresh cane juice. The sugar cane juice is a refreshing drink on a hot summer Kaohsiung day.