The Kaohsiung Reifeng Night Market 瑞豐夜市 is the most popular in Kaohsiung City.
The Kaohsiung Reifeng Night Market is the largest and most popular night market in north Kaohsiung (and maybe even all of Kaohsiung City).
Not your typical super crowded market
If you are visiting Kaohsiung and want to see a night market that is not overrun by tourists and hasn't been changed to suit tourist tastes, like the Liuhe Night Market, then you must come to Reifeng. Reifeng is busy, crowded with locals, and sells what the locals want: LOTS of food, clothing and accessories, and games. It is a true night market experience.
The Reifeng Night Market is not a street market. It is more like a parking lot grid with lots of rows. You basically park nearby, and walk to the area. Make way your up and down through the rows. One great thing about Reifeng is there is a bathroom area at the backend.
But be aware of the Rei Feng market times……
The Rei Feng night market is not open every night. It is closed on Mondays and Wednesdays. It opens around 6:00pm on the other days until about midnight.
Getting to the Rei Feng Night Market
The Reifeng Night Market is in the busy Zuoying District and a quick walk from the MRT.
Take the MRT Red Line to stop R14 and and get out at the San Min Vocational School Exit. Follow Yucheng Road heading west until you hit the market at the corner of Nanping Road. As you walk, the school campus should be on your right side.
The Reifeng Night Market is a 10 minute walk to the Hanshen Department Store on Boai Road. The entire area around the night market is full of shops and restaurants. It is bustling on the weekends.
Reifeng is quite congested with stalls. It is how a night market should be. Not an inch of space is wasted. There is a plethora of smells, noise, and lights to keep you interested at every turn.
Weekends at Rei Feng Night Market
Weekends are VERY busy at the Reifeng Market. It is overrun with locals and people who are from outside the city. If you like the busy crowds like the Taiwanese, then come after 8:00pm. Between 6:00-8:00pm, the crowds are thinner. Tuesdays and Thursdays are also not as busy as you will get more of the Kaohsiung City crowd only.
The Reifeng Market has lots of food and drink choices.
It also has many places where you can sit at a table and enjoy iron plate steak, hot pot, or noodles.
Reifeng is full of clothing choices. These are for locals and not tourists. You will see a lot of younger people checking out some cool stuff.
Accessories!!
Peppered throughout the market are lots of games. Most of them are located in the back area and they are lots of fun. These games really carry a Taiwan feel.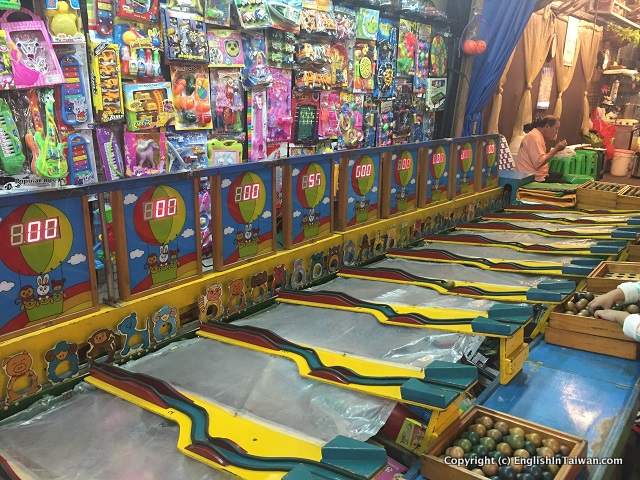 Shoot the balloons. A classic game.
Check out the Reifeng Night Market Food Page for ideas on what to eat. Enjoy!!
Other Night Markets in Kaohsiung City:
What to Eat at Liu He Night Market
What to Eat at Rei Feng Night Market