Magong City Penghu is a fun area to explore, eat, and see some historical sites
Magong City is the home base for most visitors to Penghu. The main airport and ferry terminal are here as well as most of the hotels and BNBs. Magong City should not be overlooked. There are plenty of sites to see here, and at night, Zhong Zheng Road closes to traffic and becomes a pedestrian area for shopping and eating.
Main Street-Zhong Zheng Road
Here is shot of Zhong Zheng Road 中正路 during the day. Magong City is not big and the downtown area is full of narrow streets to walk and explore. At night, Zhong Zheng Road becomes a pedestrian street. There is a Mcdonald's on Zhong Zheng Road and that area is a good central point to find all the activity.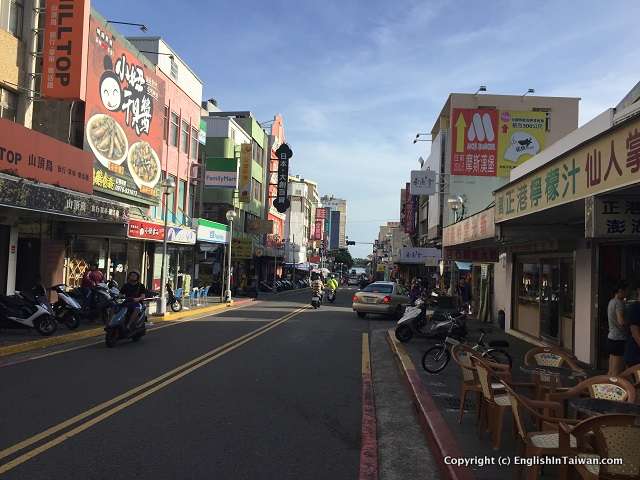 The old street of Magong City Penghu- 老街
One major area to explore is the old street of Magong City Penghu. It is located right off of Zhong Zheng Road about 2 blocks up from the water. The old street isn't very big, but you can see a few old buildings, the famous Tian Hou Mazu Temple, and the 4 wells. There are also a few coffee shops where you can sit outside and enjoy the area as well vendors selling trinkets and snacks.
The Four Wells
The four wells exemplify what life was like in the old Magong. These wells were used and shared by the neighborhood to get fresh drinking water. There is still fresh water inside today.
The Old Street at night
A picture of a section of the old street in Magong. Classic looking wood buildings and storefronts give the area a historic feel.
The famous Tian Hou Gong Temple
Other than the "Double Hearts of Qimei", the Tianhou Gong Mazu temple is the most famous and iconic landmark in Penghu. This is the oldest Mazu (Matsu)temple in Taiwan. Mazu is the Chinese God of the Sea. The temple is over 300 years old and is worshiped at by sailors and fishermen to offer protection for them while at sea. The temple is located at the end of the old street and is frequented by most visitors. It is free to walk into and even light some incense and say a prayer.
Magong Street signs
The streets signs of Magong are all a dolphin shape.
Magong old neighborhood-"Du Xing Village"
When you walk to the end of Zhong Zheng Road, take a right and walk past the Mazu Temple for about 10 minutes. You will walk past on old fort looking structure (closed) and then up a windy narrow road. This will take you to an old abandoned neighborhood full of cool Penghu style houses. This area was designated for military families after 1951. At one time, it was a bustling neighborhood full of families. However, as time has passed, the younger generation moved away and the older generation die
This area is free to explore and you can even enter some houses. It gives you a real glimpse of life in old Magong.
Here is the link to the Map of Du Xing Village
Magong old neighborhood sculpture of singer Pan An Bang
In Duxing Village, you will come across two houses that were the childhood homes of two famous singers/producers in Taiwan (Pan An Bang and Zhang Yu Sheng). Both singers grew up in the village and had fond memories of their time there. You can walk through their houses and listen to their songs as you view photos of their lives.
This sculpture is behind the house of one of the singers, Pan An Bang 潘安邦 who had a strong relationship with his grandmother growing up. His claim to fame is a popular song called "Grandma's Penghu Bay". Click here to here the song.
Zhang Yu Sheng 張雨生 was known more for his production work. He died in a car accident in Taipei at the age of 31.
Old architecture in Magong
Explore the streets of Magong City and you will come across some old buildings/houses converted into shops or restaurants. This noodle shop is right off Zhong Zheng Road in a courtyard.
Street signs direct you to the old street.
Magong City street mural
Magong City is a fun place to explore. Don't limit yourself to Zhong Zheng Road. Walk the back alleys and narrow streets and enjoy the feeling of this old city.
Penghu Island-A Complete Guide
Qimei and Wangan Islands Day Trips
Magong City on Penghu-What to do