The Raohe Night Market Black Pepper Bun 胡椒餅 is super popular and delicious.
A Great Snack
YUM! YUM! At Raohe Night Market? The one food to try is the black pepper bun. "Hu Jiao Bing" in Chinese. 胡椒餅
Lining Up
At the entrance near the temple, you will see the stand after you walk under the night market sign. You can't miss the line. It can take 20-30 minutes to wait, but it's worth it!
Below is the sign for the entrance to the Raohe Night Market near the temple. The black pepper stall is in the center row and is the first one under the sign.
The black pepper bun is made all over Taiwan. The Chinese is "Hu Jiao Bing".
The black pepper bun is a pork/black pepper mixture. Vendors will add other spices, including spring onions. The difference is the meat filling. At Raohe, the pork filling has a good black pepper taste, the meat is tender, and the outside bread shell is crispy yet chewy.
Watch the Prep Process
While you are standing in line, you can see the whole process of how the food is made. There are up to 8 workers prepping the dough, stuffing the dough with filling, and then "baking" the bun in 5 large hot canisters. The buns stick to the side of the canisters and bake. Up to 50 can fit in one canister.
Below, workers stuff the meat and onions into the fresh dough.
The workers are like a machine. They keep churning out the buns to get ready for cooking.
Once the buns are stuffed, they are sprinkled with sesame seeds.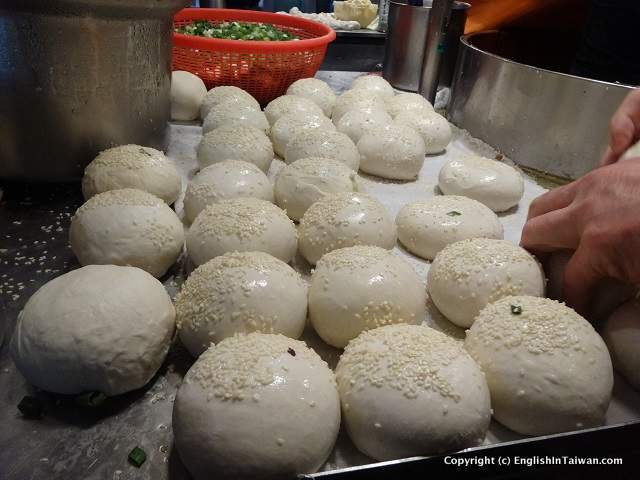 "Bakers" stick the buns to the sides of the hot canisters. They bake for 10 minutes and then are pulled out by hand.
Hot and Fresh!!
Below, a lone black pepper bun that has been freshly baked and pulled from the canister. Each bun costs 50NT.
In Taiwan, long lines mean good food. The line for the buns are long. At times you can wait up to 30 minutes. The line moves orderly and they are well worth the wait.
Below is the finished product. Be careful with that first bite as they are hot and juicy. Carerful, they are addicting.
Related Pages:
Ning Xia Night Market | Ning Xia Night Market-What to Eat | Raohe Night Market | Raohe Night Market's Black Pepper Bun | Shilin Night Market