by Robert Minor
Elephant Mountain is one of the 4 beasts 四獸山 which is the term for 4 small peaks on the east side of Taipei City. Elephant Mountain is the most easily accessible of the 4 peaks and also the starting(or finishing) end of The 4 Beasts Circuit which you can read about HERE.
Stunning Views of Taipei
On clear days, the view from Elephant Mountain offers stunning views of Taipei City and the Taipei 101 building. Come up in the evening and the lights will blow you away. It is no wonder it's such a popular place for photographers.
Getting To Elephant Mountain
Xiang Shan (Elephant Mountain) is the final stop on the MRT Red Line. Leave the station through Exit 2 and continue straight down the street following the park on your left hand side. There are plenty of signs pointing you in the right direction.
Walk with the park on your left.
Signs point the way. It should take 5-10 minutes to get to the trailhead.
Eventually, you will come to Lane150. Take a left and starting walking up the hill towards the mountain.
Walk up this hill and it will curve to the right. The trailhead will be just ahead of you.
The trailhead for Elephant Mountain. It is all UP from here….
Elephant Mountain is an easy walk and many locals and visitors like to do it. But, it is all up stairs and pretty steep, so you will be huffing and puffing and sweating depending on your fitness. Expect 15-20 minutes to the "top area" to get a good view.
Up, up, up you go….
You will pass an area called the 6 Boulders which are huge moss covered boulders you can walk between and climb on.
Below is a stone with the Chinese character for elephant "Xiang" carved into it.
The top of Elephant Mountain really isn't a top, but most people climb up to the exercise area. In the morning you can find locals adding some other exercises to their climbs.
From here, the views are magnificent. There are a few viewing platforms to get great photos.
Another elephant to remind you where you are.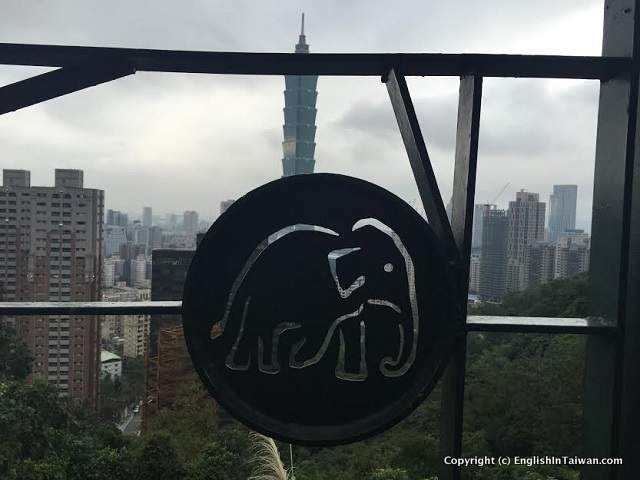 The trail continues and you could keep walking for another two hours and end up at a whole different part of the city.
Jiuwufeng is 1.3 kilometers and a lot more stairs up. It is considerably higher than Elephant Mountain. You can read about that hike HERE.
Another 15-20 minutes up from the exercise area is a cool little Buddhist Statue garden with a white figure of Guan Yin. Not many people walk to here and it is usually very peaceful.
The monk statues are quite cool.
TAIPEI HIKING SERIES:
Seven Stars Peak in Taipei's Yangmingshan Park on the Miaopu Trail. (steep/moderately difficult)- Page 1
Making it to the peak of Seven Stars Main & East Peaks-Page 2
Xiaoyoukeng path to Seven Stars Peak (moderate)
Elephant Mountain (easy but steep)
The 4 Beasts Circuit to Jiu Wu Feng (moderate)-Part 1